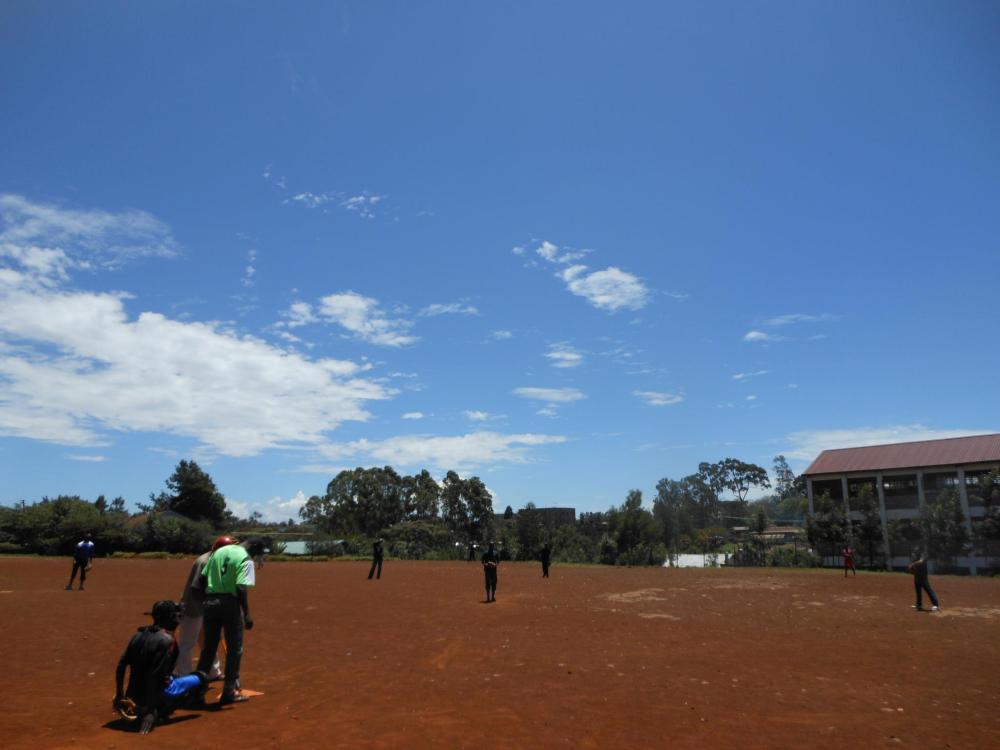 ©Baseball Federation of Kenya
The first stop in the qualification process for baseball at the Tokyo Olympics started in Accra, Ghana, during the penultimate weekend in March. Burkina Faso and Nigeria punched their tickets to the African Championship, with the former steamrolling by both Ghana and Nigeria. The next stop on the road to Japan goes through Lenana School, Nairobi, Kenya. The Zone East Qualifier from April 5-7 will send two teams to South Africa with Kenya playing host to Tanzania and Uganda in a rematch of the 2017 East Africa Baseball Championship.
Unlike the other three original qualifiers, 'Zone East' has remained almost unchanged, with only Zambia pulling out of the tournament. Unlike the other nations, clustered within driving distance of Kenya's capital, the distance from Zambia's capital, Lusaka, to Nairobi is 1,433 miles/2,305 km. Zambia has also not fielded a national team since 2007, though Clayton Kershaw did visit an orphanage in the country in 2013 and the national federation is one of the best organised in Africa. The problem, simply, was funds.
As Uganda's George Mukhobe told us a few years ago, "Africa is large and traveling is hard."
Uganda has been one of the most consistent teams outside of South and West Africa in terms of international competition, participating in the 1999 and 2003 African Championships while developing a thriving Little League programme. Indeed, a Ugandan club won the Europe-African regional in 2012 and were the darlings of Williamsport. Only bureaucratic difficulties have prevented return engagements.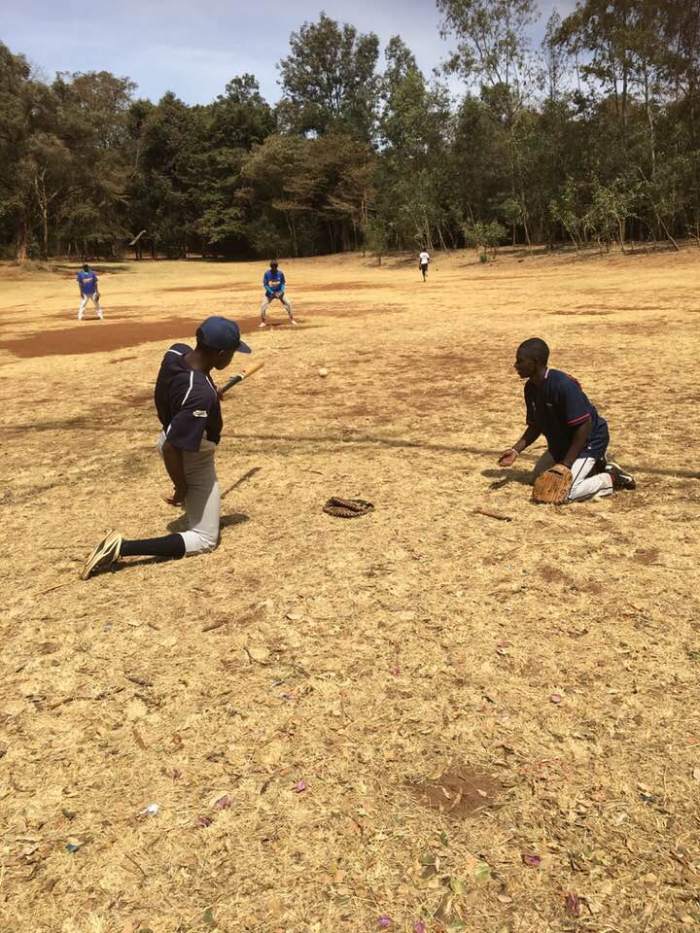 ©George Kinuthia
Kenya has only twice appeared in tournaments at the senior national level, finishing bottom of the table in the 2001 African Baseball Cup and second in the 2017 East Africa Championship. It has, however, twice hosted African youth championships and appeared in a third over the last twenty decades.
Meanwhile, Tanzania made its debut at the East Africa Championship in 2017, which Uganda won. Rain and squabbles over a myriad of issues, including scorekeeping, the rules, and the weather itself marred the tournament, which was listed beforehand as a WBSC-sanctioned tournament yet failed to produce any ranking points for the nations.
In December, Tanzania was ejected from the East Africa Championship, which became a club championship for both youth and senior teams in the other two countries. Uganda has made headlines in the past few months for an investment by the Los Angeles Dodgers, while a Japanese International Cooperation Agency (JICA) volunteer has funded a league in Tanzania. Kenya has brought in the biggest outside name of any of the teams, however, as Australia's head coach Steve Fish is serving as coach and volunteer.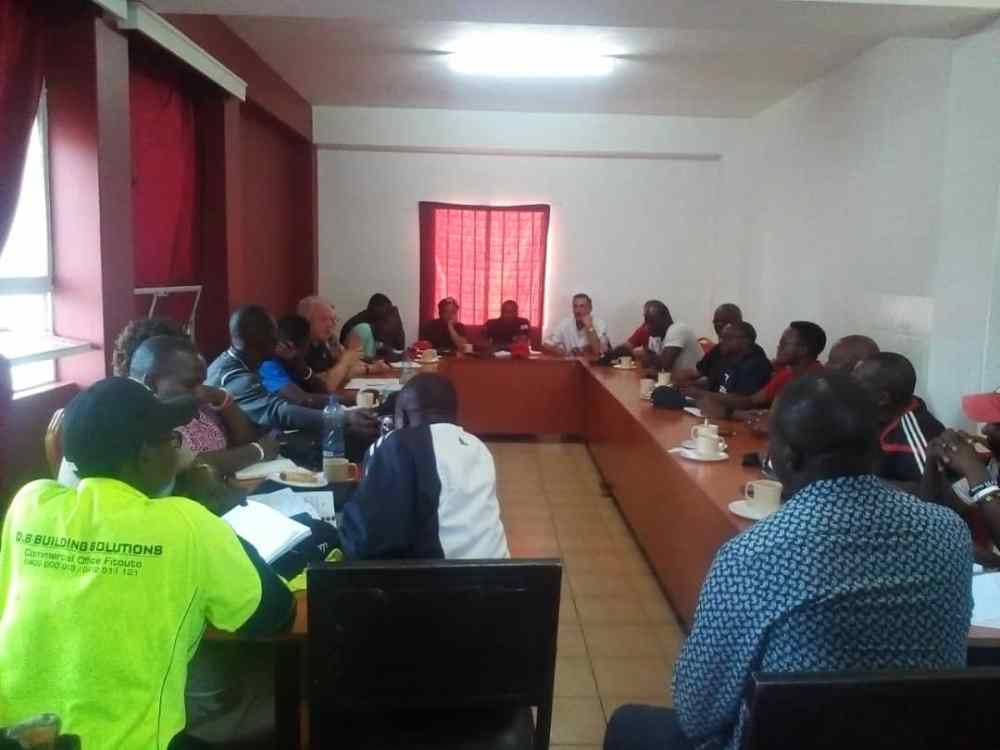 Pre-Tournament Technical Meeting ©Alpherio Moris Nchimbi


"We have had a technical meeting with Paul Bokern, an umpire trainer with WBSC, and Anna Maria, scorer trainer with WBSC," Titus Mutwiri, president of the Baseball Federation of Kenya told us. "We have had a successful two-day umpire and scorer training that started with few hitches, but everything ran smooth for the rest of the day and…the second day."
Games will be played over the weekend of April 5-7, with the top two qualifying for the first continental championship since 2007 Olympic qualification. The first game will be tomorrow, when Kenya plays Tanzania at 13:00 local time (11:00 GMT). Uganda will take on Tanzania a day later at 11 a.m. (9:00 a.m. GMT), while the tournament will conclude with Kenya against Uganda on Sunday, all at 10 a.m. GMT (8 a.m. GMT).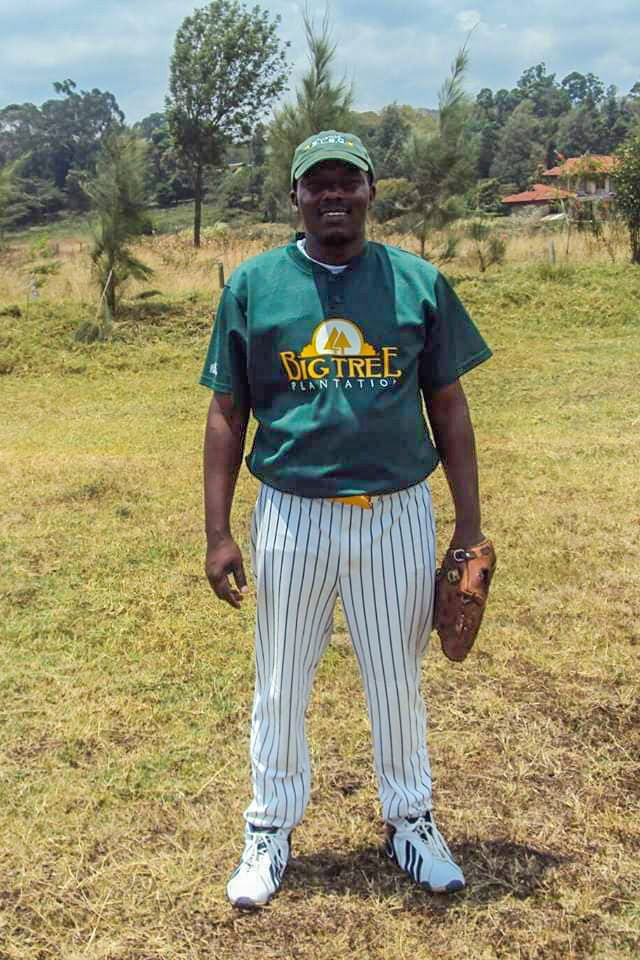 ©Titus Mutwiri
"We are proud to host the Africa Zone east qualifiers at Lenana School in Nairobi Kenya," concluded Mutwiri. "We are happy that that WBSC has a program coming for baseball development in Africa and I hope Africa shall benefit through programme that stir the growth baseball in the continent." For more on each of the three nations, our series of previews continues with more on baseball in Kenya, Tanzania, and Uganda.
Kenya
In most countries in Africa, baseball development seems to always be a joint effort between either a US government organisation or charity and the Japanese International Cooperation Agency. This was the case in Kenya as well, where U.S. Marines introduced the game in the early 1970s,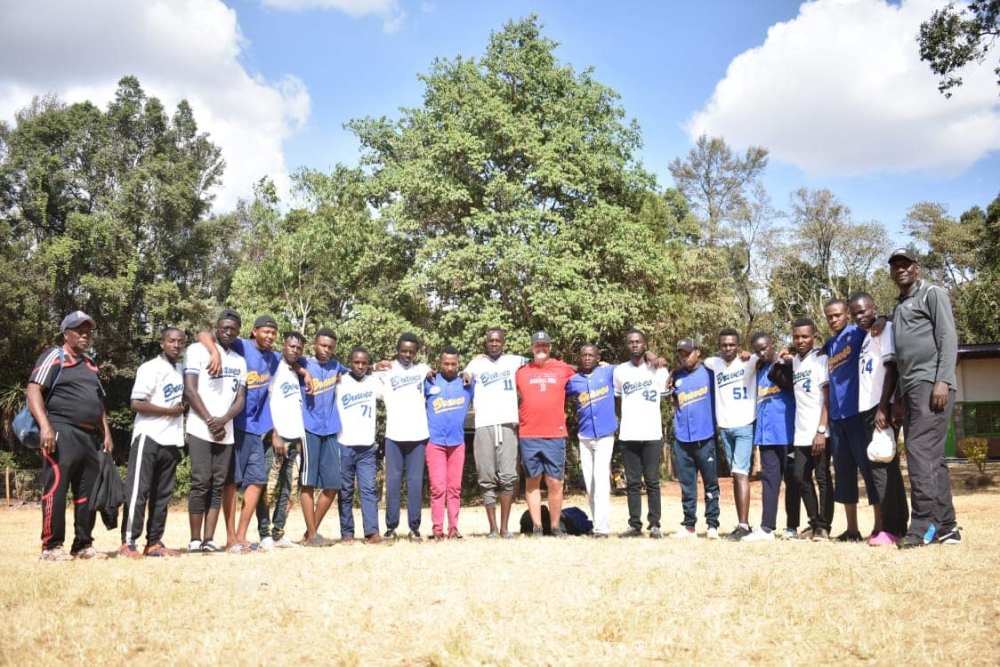 Kenya Baseball, ©Titus Mutwiri
though the Baseball Federation of Kenya was not founded till 1995.
Like in much of Africa, it was JICA that played an integral role in the establishment of the sport to Kenya, with Little League (KLL) started in 1997. After quickly going dormant, KLL was renewed in 2010 and began a period of sustained growth in 2012 when it partnered with American Friends of Kenya, which donated equipment and put on umpiring and coaching clinics.
It again received a major boost in 2014 from Angels at Bat, founded by Wisconsin's Max Bobholz at age 12. Bobholz asked anyone he could find to donate baseball equipment no longer in use and, in 2014, his mother and he brought 19 suitcases of equipment to Kenya. Last July, they returned with 500 more pieces of equipment.
In between, John Fitzgerland of the Baseball United Foundation donated 300 pounds of equipment via the American Friends of Kenya in 2016 [link]. The generous donations have spurred significant growth and by last summer, the sport had been introduced to 200 schools and two universities (link).
Meanwhile, the national team first competed in the 2001 African Baseball Cup in Kampala, Uganda, finishing fourth behind South Africa, Nigeria, and the host nation. As the KLL started to grow in recent years, so has the national programme and Kenya even hosted the Under-18 African Championship in 2014, where it finished fourth of four. In 2017, the senior national team travelled to the East African Championship, where it defeated Tanzania 9-8 for its first-ever win, before losing to Uganda, 10-0.
In January, Kenya launched a Baseball National League with 10 teams across men's and women's senior and U15 levels. Later this year, it will host the second East Africa Club Championship. It has also brought in former minor league Steve Fish, the current Australian senior national team coach. Fish has also coached the U15 and U18 Australian teams and has six ABL championships with the Perth Heat.
"The Kenyan team is elated to have the qualifier held right at home and is ready to give their best to travel down south for [the] continental championship," noted Mutwiri.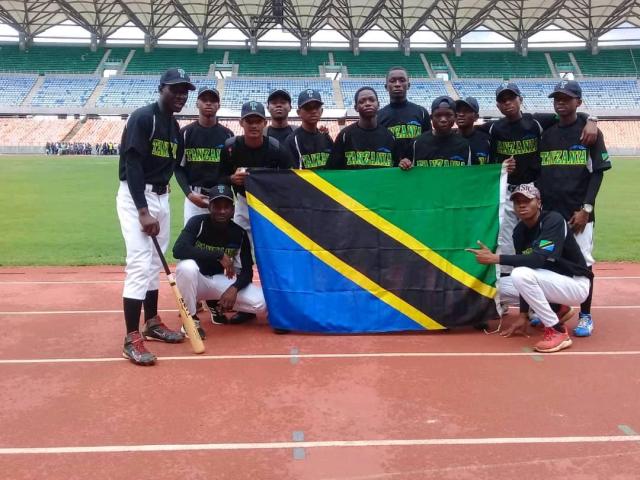 @TaBSA
Tanzania
One of the most recent adoptees of baseball in Africa and, indeed, the world, the sport has only been played since 2012 in Tanzania. In fact, its national federation, the Tanzania Baseball and Softball Association (TaBSA), was only founded in 2014. Since then, however, it has already been quite active, playing in two major tournaments.
The story, once more, starts with a generous Japanese volunteer, which in this case was Ghana's first manager and founder of the Association for Friends of African Baseball (AFAB), Shinya Tomonari. Tomonari organised equipment donations from high schools, universities, leagues, and the Japanese federation [link]. In 2012, the first Koshien Tanzanian Baseball Championship, named after the famed high school tournament in Japan, was first contested.
In Tanzania, Tomonari discovered the enthusiastic Mussa Mbugi, who quickly adopted the sport. In 2012-13, Mbugi studied abroad in Oregon and became his high school team's manager (volunteer assistant). Since returning, he has taken the lead in baseball training, hosting baseball, softball, and baseball5 clinics for more than 400 in 2018, with another 100 already this year.
The efforts paid off with the creation of the first national team in 2014, which posted two surprise win over Kenya that year at the Under-18 Africa Championship. The first games for the senior national team were at the East African Baseball Championship at 2017. Although the club lost twice, its games against Kenya was a close one. Although it was blasted 18-0 by Uganda, it lost a rollercoaster against Kenya, 9-8.
"Mr. Tomonari is our father, we love him," explained Hussein Abdulrahman Suleiman, the Technical Director of TaBSA. "He is the great support to us and even me. He even donated some money [for] our trip to Nairobi."
At a recent event, Cultural Affairs Officer Jeff Ladenson from the U.S. Embassy gave a talk about Jackie Robinson and screened the film 42 (in which, as a side note, the author plays a fan indignant at Robinson being spiked). Mbugi's next goal is to start Little League competition in Tanzania.
"[It is] not easy to have a team. In Tanzania baseball is not popular and motivation is still low," noted Suleiman. "Every year we prepared a national competition to find a top squad player to make [the] national team. In our country we have 26 regions, [with] 11-12 regions playing baseball and [with] their own team."
At 21 years' old, Suleiman is a veteran compared to the national team roster, which range from 16 to 20, but no older.
"Some of [our] players are from different regions, so we had difficult time to reach all over region to find the player. We had great time [preparing for] national competition to find the greatest players. After that we made a camp for the preparation of Olympics. Every Saturday we have fielding practice for Olympic qualification. But through many games, maybe our Tanzanian members will understand our game."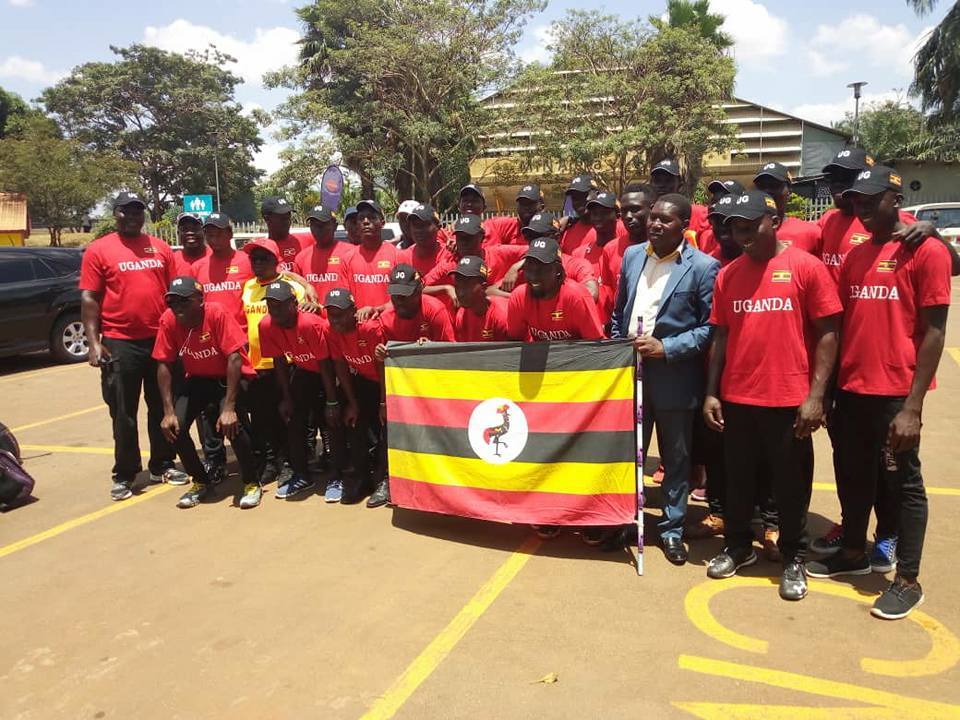 Uganda
Like Nigeria in West Africa, Uganda has far more collective international experience than any other team in its region. It first competed in the 1999 African Games and has compiled an all-time record of 4-11 (with four results unconfirmed). Its only wins at the continental level were against Kenya in 2001 and Lesotho in 2003.
Still, Uganda was a baseball neophyte in those days and has grown considerably since then, particularly at the youth level. Ugandan legend George Mukhobe learned the game from missionaries and has, at times, kept progress going almost through sheer willpower. He has, as is all too familiar, had help from JICA and American charities.
Uganda first qualified for the Little League World Series in 2011, but as would become a recurring theme, their visas were denied. The Langley, British Columbia club that was due to play them was motivated by this injustice and organised the Pearl of Africa Series [link].
This event brought the Canadian team to Uganda, accompanied by Jimmy Rollins, Derrek Lee, and Gregg Zaun, plus a variety of international media. The group also organised over 1,000 kg of equipment and paid for field improvements in the East African country as well, where the main field had been paid for by American businessman Richard Stanley. Additionally, it raised funds to ensure two future trips to the Little League World Series.
The following year, the team did indeed qualify for Williamsport and charmed the fans and media there. After a 9-3 loss to Panamá in which Daniel Alio ripped a home run for Uganda and a 12-0 drubbing by México, the Ugandans made history with a 3-2 win over Oregon. Their journey, plus the visit by the Langley club, was even made into a film that was an official selection to the Toronto International Film Festival, Opposite Field [link]. Another film, Tugende Baseballer, also took a look at the young Ugandan players [link].
In 2013, however, the team was denied the chance to go to Poland for the qualifier due to complex rules around school registration. Alas, future years were wiped out due to absurd bureaucratic regulations (involving everything from death certifications to bizarre insurance exceptions) and little administrative help from Little League, which will not allow Africa to host a qualifying tournament.
Although prohibited from competing in Little League competitions, Uganda's top school (Allen VR Stanley, AVRS) sent a team to compete in the 2017 Cincinnati RBI Tournament and another tournament in New Jersey. The Ugandans demolished the competition, catching the attention of major league scouts. In 2018, AVRS was accepted into the RBI programme.
On the other hand, MLB has sent various high-ranking officials in the last two years, including Mike Randall, Bill Bavasi, and Garth Iorg. In December 2017, the Ugandan Little League went to the winter meetings, where they met Stan Kasten, the Dodgers' president. A few months later, Bavasi returned again, with more scouts accompanying him. Kasten then met with the ULL once more in July, agreeing to send equipment and scout Ugandans when they played in the U.S.
Uganda won the inaugural East African Championship in Tanzania in December 2017, though rain and squabbling over regulations clouded the event. It defeated Kenya 10-0 and Tanzania 18-0 before the title game was called with Uganda up 5-0 in the second. In 2018 it hosted the East Africa Club Championship, with a number of teams at all age levels participating.
This January, three representatives from the Dodgers arrived to stay in residence. The Los Angeles club paid for new batting cages and mounds, donating pitching machines, uniforms and equipment, and some baseball technology as well.
Uganda has been the beneficiary of numerous donations from charities as well, particularly from Pearl of Africa, Pitch in for Baseball, and Play Global. The latter has built five batting cages, sent coaches over several years, and trained new coaches there and online.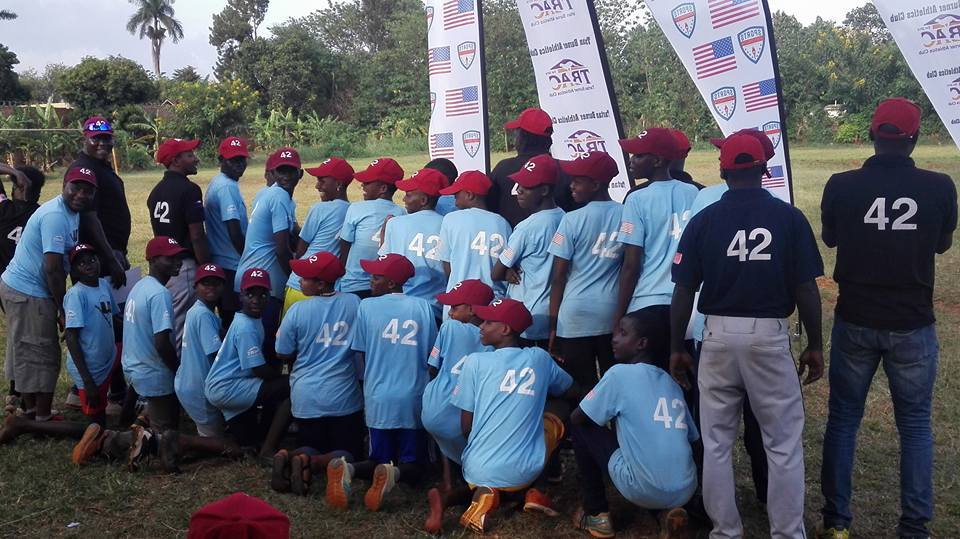 Jackie Robinson Day at the U.S. Embassy ©UBASA
This year, the national federation (UBASA) is partnering with the U.S. Embassy for an event to commemorate the life of Jackie Robinson. A series of baseball clinics will be staged in secondary schools, while Robinson's son David Robinson will travel from Tanzania, where he works as a coffee farmer, for a showing of the film 42.
The final roster [link] includes Alio, who had an incredible performance at the 2012 Little League World Series. Alio went 3-for-6 with a walk at the dish, while appearing in all three games and allowing three earned runs and 10 hits in 7 2/3, whiffing 10 and walking only two. The only other returning player is catcher Justine Makisim Umar Male, who was 1-for-8 in the LLWS.
In a statement from the federation, we were told in early March that "The players are under training and the team has not been selected yet. Because we are financially constrained, we have not organised any friendly games."
For those curious (and, perhaps, wishing to donate to a worthy sporting cause), the costs of competition in two tournaments, even with one local, are much higher than one might expect.
"The Baseball team needs approximately USD 61,867 to have players [at] residential camps, participate in the Zone East Olympic qualifiers, and in May to travel to South Africa for the Africa continental Olympic qualifiers."
Still, UBASA has done its fundraising and is feeling justly confident, having never lost to an East African opponent at any level.
"The Uganda national baseball team is set and ready to travel to Nairobi," concluded Mukhobe. "Though it is still challenging with little funds we have, am glad to let you know that we shall be there, and most probably, we shall make it to the continental stage in South Africa come May 1-5th."